Family Owned And Operated Over 29 Years
Installing Acrylite Patio Cover Since 2009. We specialize in the Installation of Custom Decks and Patio Covers.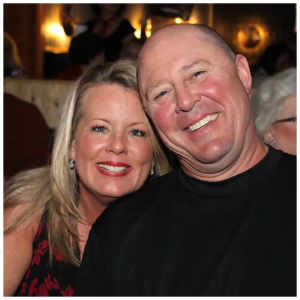 Personalized Approach
Robert began Pioneer after serving time in the Army in 1994. Robert and Jennifer are both Columbia River High School Alumni right here from Vancouver, WA, and continue to contribute back to the community often.
Pioneer is a Locally Owned and Family Operated Business that takes Pride in every member of our operation.  Robert & Jennifer married in 2005, raised five children between the two of them and continue to be very active within the community. Robert will usually be the one you meet while getting an Estimate for your project. He takes a hands-on approach with all projects.
Excellence and Professionalism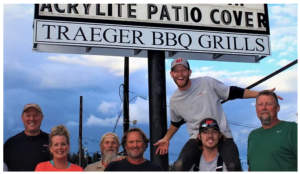 Pioneer is very proud to let you know that all our crew is considered a part of our Family. Our crew members have been a part of Pioneer for 2-19 years. Rikki has been with us since 2004, Charley since 2007, John since 2008 and each one following them between 2-7 years. Even though some have come and gone
Pioneer wouldn't be who we are today without each one of them. Between our dedicated craftsman years of construction along with Roberts, we have over 200 years of combined experience. You can be assured that we all take pride in our workmanship and satisfaction on every project, whether big or small.
Our 4-Legged Pioneer Crew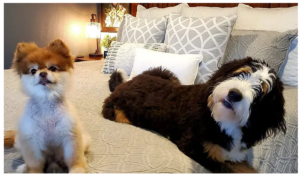 For our previous customers, most have met Dyson, our Pomeranian who joined our family 14 years ago. He is loved by many and always enjoys the attention of
everyone around him. You might see him hanging around the showroom greeting you at the door. Winston joined our family in November 2019. He is a Bernedoodle who steals the hearts of many. He is a bit shy at first but don't let that fool you. Both Winston and Dyson share their home with two amazing Main Coone cats named Susu and Zeppelin, both five years old. Our fur-babies are spoiled and loved very much.
Sponsorship and Community
We at Pioneer strive to be a part of our community giving back throughout the year. Pioneer has been a proud sponsor
over the years for The Hough Foundation, Share-Soups on, Battle Buddies, Bridge the Gap (One Child at a Time) and many more local fundraisers and organizations.